Ancient Indian Secret for Brain and Body Health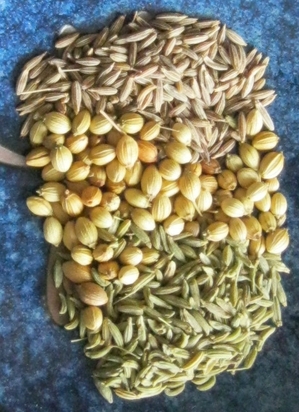 Before I became a bona fide student of Ayurveda at the dhyana Center, I would take weeklong and weekend workshops at the Ayurvedic Institute. At both centers of learning, I would engage in self-care while learning and applying the strategies of Ayurveda.  The days would be long and intense, but I always felt alert, energized and enthused. I was also able to comprehend complicated concepts easier for immediate application. 
One of many practices that both of these schools had in common was that they continually kept a specific series of herbal teas brewing throughout the day for the students.  One of those special brews is savory and refreshing cumin, coriander and fennel tea (CCF tea).
To the American palate, this combination might sound, smell and taste a bit odd because we tend to drink teas that are more sweet in nature. Cumin, coriander and fennel combine beautifully to make a savory tea that is well worth getting to know, enjoy and love.
Cumin, Coriander and Fennel as an Herbal The Body Whisperer
If you are prone to marathon work, research or study sessions then CCF tea is for you. Cumin, coriander and fennel tea relaxes the mind and nourishes/calms the nervous system. It is a tonic for the brain, promotes mental acuity and helps relieve temporal headaches.  This powerful herbal triad is also helps to correct imbalances in the digestive, urinary, respiratory and nervous systems. Whenever I'm working long hours and need to think clearly and creativity, I have a big pot of CCF tea brewing so that I can sip on it all day. I also put it in my glass water bottle and take it with me on the road. You can enjoy CCF tea hot or at room temperature.
Because CCF tea is also a powerful digestive aid and a blood cleanser, I recommend drinking it all day when sick, feeling tired, after dental visits or when recovering from surgery. After you have completed taking your prescription medication (i.e. post surgery) drink CCF tea for two weeks or so to clean your blood of any toxic residue. You'll feel great and like yourself again in no time!