Liver/Gallbladder Nourishing Stew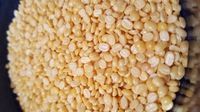 Liver/Gall Bladder Healing Kichadi (Stew)
I rarely do a fast/cleanse without food. The body needs nourishment and this soup will energize and sustain you during a nourishing cleanse of your liver and gall bladder. It will be a very mild diuretic and laxative. Use organic ingredients where possible. You'll love the flavor and will not be hungry during this gentle cleanse.
A kichadi is an East Indian (Ayurvedic) stew that consists of brown basmati rice, yellow dal (yellow lentils pictured to the left) and an array of healing herbs based on what you are intending to heal. Successful cleanses are at least 5 days long because it takes your body 3 days to adjust. Your body would appreciate the break if you can go longer. When you finish your first batch, make it again with different vegetables if you need variety.  However, if you practice mindfulness and treat each bite as if it were the very first taste, you will not get bored.  This is a meditative cleanse, so stay in the moment and each bite will be a delicious, savory  and sensual experience.
If you are fortunate enough to arrange a staycation, I encourage you to invest the bulk of your time in meditative silence, limiting your activities to Qigong, Yoga, Meditation and time in nature.  With limited physical activity, you'll notice that you can eat the kichadi for breakfast and lunch, but then just have tea for dinner without being hungry which will deepen your cleanse. This is also a beautiful experience to do with the entire family, although silence will of course be impossible with very young children.
Liver/Gallbadder Kichadi
1 bunch of broccoli and/or 1 bunch of dino (lacinato) kale, collards or dandelion greens, rinsed and chopped
1 carrot, sliced
1 cup of amaranth (soaked for 6 hours, rinsed and drained)
1/3 cup yellow lentils (also called yellow mung dal)
2 inch slice of each: fresh or dried burdock root (2 tablespoons if dried), peeled and chopped and dandelion root (soak in water for 30 minutes if dried and using the stove top method. No need to soak if using the crock pot method.
1 tsp. cumin seeds
1 tsp. coriander seeds
½ tsp. black mustard seeds
2 turmeric roots, thinly sliced or 1 tsp. turmeric powder
1 TSP ginger root, shredded or 1 tsp. ginger powder
1 tsp. sea salt
1 stick kombu (rinsed)
1 TSP coriander powder                                                                                                                        
8 cups of distilled water
Stove Top Method
Place cumin, coriander and mustard seeds in a large sauce pan over medium heat. Dry roast, stirring frequently until the mustard seeds pop (you can also sauté in 1 tsp of coconut oil). Add the turmeric and beans and sauté for 30 seconds. Add 6 cups of water, amaranth, kombu, burdock, ginger and dandelion root and bring to a boil, and then reduce to a simmer for an hour until amaranth is cooked (amaranth will get thick and sticky so stir often). Add the remaining water, carrot, broccoli, greens, sea salt and coriander powder. Simmer for 10 – 15 minutes or until broccoli is cooked to your liking.
Crock Pot Method
Turn crock pot on high and add 6 cups of water and all spices. Use coriander and mustard powder instead of seeds (or roast them as listed above and add to crockpot). Add all ingredients except the broccoli, carrots and greens.  Cook on high for 3-4 hours or until amaranth and yellow dal are cooked. Stir each hour to keep amaranth from sticking. Turn the crock pot to low, add fresh vegetables, additional water if needed and simmer for an hour or until greens have wilted and cooked to your liking.
Variation: Organic brown basmati rice in place of amaranth (if not sprouted, soak rice overnight first).
Even if you are unable to obtain all of these ingredients, PLEASE make the stew anyway with as many of the ingredients as you can find. Even if you only used one healing herb, you will still be nourishing and energizing your liver and gallbladder.
Enjoy in Radiant Health