Relish Your Broccoli Stems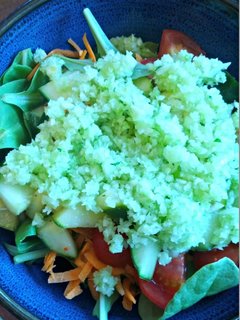 With only 2 simple ingredients I managed to salvage a very healthy food that is usually thrown away: broccoli stems. My sister is a picky eater so I'll have her try my new recipes  because if she likes it, everybody likes it.  She LOVES broccoli stems. She puts it in soups, salads, in sandwiches, just about everything.
My favorite way to use broccoli relish is sprinkled over salads (as pictured) or as a soup garnish. I hope this recipe will encourage you to relish your broccoli stems. 
Dr. Phyl's Broccoli Stem Relish Recipe
1 large broccoli stem (you can also use a bunch of kale stems, collard stems, etc.)
3 cloves of organic garlic
Place both ingredients in a food processor with the "S" blade and process for about 15 seconds (or to your liking). That's it! A robustly tasty relish that is extremely good for you and tastes great.
It is truly a shame that many people toss their broccoli stems. Broccoli is a rich source of the antioxidant Vitamin C. Broccoli also contains important nutrients for brain to support mental acuity and memory, helps the body to reduce inflammation and enhances the cells ability to detoxify. The stems have more fiber and beta carotene than any other part of the broccoli. Let's start a broccoli stem revolution! Try it and let me know what you think.
Enjoy in Radiant Health!